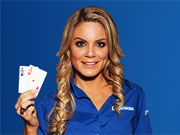 With Charlotte Jackson being the current face of Sky Poker, it is clear that the company has been working hard to make sure that they get their money's worth out of the pretty presenter. It doesn't seem as though Charlotte has been on Sky Sports News too often of late and with Hayley McQueen currently sunning herself in Miami at the moment, some of the favourites have been missing for plenty of regular viewers.
However, while Hayley has been enjoying a well-deserved holiday, Charlotte has been busy on other projects. She has been busy playing golf for a number of different charities and this week, she is back on the Sky Poker site and players have the chance to take her on if they play their poker cards right.
TV star taking on the poker players
This is because Thursday the 30th of May is another Charlotte Invitational Event, the Guaranteed Charlotte £6K-Max event which will be taking place at 9pm on the Sky Poker site. All this week players have been playing their way to claim one of the five seats available to take her on. There is a good incentive for the event because every player that is involved with the £6k-Max event will be guaranteed to grab some cash. The top prize is going to be £2,400 which is certainly a strong incentive to be involved with the play. If Charlotte bags the top prize, there is going to be a good incentive to come back for the Charlotte Freeroll event which takes place on Friday the 31st of May.
This is because whatever money Charlotte earns on Thursday night will be placed into the freeroll event on Friday evening. There is going to be another game that Charlotte plays in on Friday night and again, any winnings that she earns in this other game will go to the Charlotte Jackson Freeroll event on the Friday.
While there will only be limited players taking on Charlotte in the £6K-Max event, everyone can have a shot at Charlotte in the Sky Sports Bounty Hunter game. This is going to be televised on Sky Sports and on Sky Poker TV live, so it is well worth getting involved with if you want to see your name up in lights on TV!
There is an entry fee of £33 but if you manage to outlast Charlotte, you will get entry into the Friday freeroll where there is going to be £500 and all of Charlotte's Thursday night winnings up for grabs. There is no doubt that Charlotte has been a rather fine ambassador for Sky Poker and her presence on Thursday is sure to entice a few more poker players on to the site.