Celeb Poker, one of the online poker sites on the very popular iPoker Network, recently announced that they would be staging the ECOOP VI, a poker championship tourney reputed to be the best poker competition in all of Europe.
The Sixth European Championship of Online Poker will begin in May and continue on till the month of June and will host an extremely generous prize amount of $5,100,000. This amount is guaranteed and players will be able to win large prizes should they make their way to the top positions in this event. Reputed to be the richest poker tourney in Europe, the ECOOP VI will take place on the 24th of May at Celeb Poker. Players will have to win the Texas No Limit Hold'em Freezeout game with a prize of $250,000. This prize is also a guaranteed amount and many players are expected to attend.
Unique Tournaments in ECOOP VI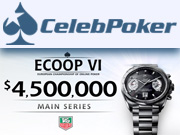 The Sixth European Championship of Online Poker is a unique tournament event which will host a series of competitions that involve different types of poker games and these include Limit Hold'em, the popular Texas No Limit Hold'em, Pot Limit Omaha, 7 Card Stud and Omaha High Low poker as well. As you can see there are various different kinds of online poker tournaments waiting for you and at least one of them should be down your alley.
This year event 11 ($100,000 GTD NL Hold'em, on June 3) will be played as a Quadric tournament. A Quadric is a special version, where you compete in 4 tournaments. The winners of each tournament will receive 15% of the prize pool while the remaining 40% will go to the players who ranked best in these tournaments on average.
Also new this time around is the Mini ECOOP which will be held just before the ECOOP VI. Buy-ins as well as prize money will be a bit lower in the Mini ECOOP VI. Nonetheless you will be able to compete for $600.000 guaranteed in the 10 days leading up to the ECOOP VI.
Unlike many other poker tourneys, the ECOOP VI is not just about Texas Hold'em and tests the poker skills of players in three other games.
The final event will be held on the 6th of June 2010 and will see the finalists competing with each other for the big poker prize. This is yet another guaranteed poker pot and this game hosts a prize of $1,500,000.
Players who are interested in getting on board the ECOOP VI bandwagon should register at Celeb Poker and participate in the mini tournament games held between May 14th and May 23rd. Players are also encouraged to sit in for the satellite games constantly being offered at Celeb Poker.