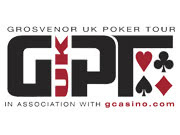 In the current climate, everyone is obsessed with numbers and seeing how things stack up and compare to other things. This is something that is particularly prevalent in the current UK poker scene and every event will have the number of players and attendees examined and analysed in close detail. We're not ones to be left out in this regard which is why the initial turn-out for the start of the GUKPT Reading leg was fairly disappointing.
Thursday Day 1A activities always have to be taken in context but even so, when you have an event due to start in 15 minutes and only 9 players have actually stumped up the £550 for the event, it is natural that some people will be a bit worried. There was a bit of a spurt in these fifteen minutes because by the time the event was officially underway, the number of paying players had rocketed up to the heady heights of 17 poker players! This wasn't ideal and by the time the registration period closed there had been a total of 52 players involved with the event. Of this 52, 25 players made it through the day, which is surely an incentive for all poker players to get involved with this sort of event. That is extremely close to a 1 in 2 chance of making it through the Day 1A of a major poker event, which is surely something that will be of interest to many poker players in the United Kingdom?
A big poker chip stack is always good
The player who picked up the most chips at the end of the Day 1A action was Ricky Smith. Smith was the only player at the event that managed to get over the 100,000 mark with his chips, reaching the lofty total of 103,000. This was more than enough to see him out in the lead with respect to chips and the player from Tadley can be rather proud of his showing in Reading. As we all know, a good Day 1A showing is no guarantee of success at any point in a poker tournament but you'd always rather have more poker chips than less so well done to Ricky.
Some of the other top players still in the running include James Martin, who managed to grab 85,800 chips and Stuart Fox, who had 51,800 chips at the end of player. Terry Plummer also booked his passage with 48,950 chips while Willie Tann claimed 47,500 chips. Other players making it through were Richard Hawes, Victor Ilyukin and Peter Haslam.