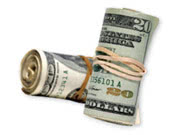 In case you are wondering why there are so many online poker players broke, well the answer comes easily: because they have a poor money management!
In case you are a very good poker player and you can manage your bankroll money well, it's going to be almost impossible to become broke. In case you are planning to make a living out of online poker, or you just simply want to minimize the risks you have to go broke.
One of the first things you must understand is the fact that the winnings that you collect at the poker table cannot be used for anything else but for playing poker and it should be considered to be operating capital. The online poker bankroll is very important to an online poker player and without it it's almost impossible to make a profit out of this game.
In case you start winning enough profits at a certain limit, you will have two options available. The first one is to cash in the profits and continue playing at the same limit, or you could use the money to move up to a higher limit.
In case you only play poker as a hobby, make sure that you know exactly how much you are comfortable to lose during your poker sessions and beware that sooner or later your bankroll might disappear. But in case you are going to play well and respect the bankroll management rules you will stay away from that situation.
If you are a good online poker player and you love playing at the FL Teas Hold'em games you will probably make only one big bet per hour, so this means that you will make one big bet of $40 an hour in a $20/$40 game.
In order to feel comfortable while playing you must have a bankroll this is at least 300 times larger than the big blind. So this means in case you are going to play at a $20/$40 Pot Limit game you must have a $12k bankroll.
The Bankroll Management Rules
You should never play poker with scared money. Always put a level where you feel motivated and relaxed to play and never risk to go broke by playing just a couple of hands.
In case you are going to play a Limit game of Texas Hold'em you must have a bankroll which is at least 300 times larger than the big blind.
During the game if you manage to play very well, it's best that you stick to that game even if there are some short periods when you're losing.
And the same thing goes for the opposite situation, if you are in a bad game, but at the moment you are winning it's best that you leave that game.
Always avoid the tilt! You can do that by leaving the table and logging off ever from the first signs of a tilt.
If you see that you are starting to lose a lot, maybe you should think about going down to a lower limit and once you have built a good bankroll go up the ladder once again.
Every day track your online poker play statistics: number of hours played, winnings and losses. This will always give you a good overview of what you are doing. It's always best to know if you're on the right track.
Only play poker when you are in the mood for doing that, this way you will be increasing your winning rate a lot.