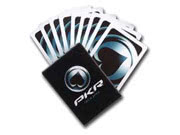 A lot of online poker sites offer points to players every time they play a money game on their site but more often that not, these points do not accumulate anything. They are meant to be seen as loyalty points and to provide some benefit in using the site on a regular basis but more often than not; they build up and build up without actually achieving anything for the player. This is not the case on the PKR site where these points can be used to buy a gift from a huge range of items.
As you would expect, there are plenty of poker products to choose from with cards and chips being amongst the most popular of items. If you play poker a lot at home, these are essential items and if you can get them for free through playing poker online, it provides a good benefit to a regular poker player. As you go up the scale, the site offers poker tables and other larger products which are redeemable for a greater number of PKR points.
Read about poker
A nice touch is found in the large selection of poker books that are available. Whether you want to brush up on your skills and strategies, learn more about the origins of the game or read about some of the characters from the world of poker, PKR provides a great selection. Many of the books are also available in the e-book format if you are technologically advanced.
Aside from playing and reading about poker, you may choose to tell the world you are a big poker fan with the clothes you are wearing. PKR has a clothes shop section online and it is possible to buy t-shirts, shirts, hoodies and all manner of clothing accessories emblazoned with some form of poker element. There are a number of humorous poker t-shirts to choose from which should satisfy anyone who enjoys the lighter side of poker.
Great sporting memorabilia available
Of course, not everyone has poker at the centre of everything they do in life and these people will be glad to know that there are non poker products too. There are some amazing sporting memorabilia products up for grabs, including signed pictures and football jerseys. The PKR site also offers a number of luxury items including watches, sunglasses and men and women's fragrances.
If you feel that playing poker and having the chance to win things is enough of a reward, you can use the PKR points to donate to charity. PKR Poker provides players with the opportunity to donate to their own African charity, so playing poker can help others less fortunate to gain benefits. Many people find it easy to criticise poker websites but with elements like this, they are certainly not as bad as anyone could make them out to be.
These shopping options may not enhance the poker experience but they can add a further reason to enjoy playing on the PKR site.