Sam Trickett is to join Michael Mizrachi as an ambassador for next May´s ISPT at Wembley as organisers attempt to add credibility to the event.
One month after the International Stadiums Poker Tour engaged Michael Mizrachi to represent them, ISPT have finally guaranteed something – that at least two players will be competing in their €20 million guaranteed tournament.
The ISPT announced Trickett´s role of ambassador by publishing a humorous biography of the "best poker player in England" on their site, who finds that poker "offers him as many excitement and adrenaline as football".
Trickett himself commented on Twitter that "I just want to announce that I will be an @ispt_poker official ambassador. Will be one of the biggest tournaments ever held May 31, 2013" which co-incidentally was word-for-word what Mizrachi tweeted in July.
According to the ISPT write-up of their new ambassador, Trickett was quoted as saying "As a poker player, I have to be associated with such an enormous event. Being part of this tournament means being part of the history of poker". It could also be Trickett´s only chance of visiting Wembley next year.
Further ISPT Announcement due Next Monday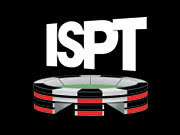 According to Stephen McLean – the ISPT´s UK "agent" – an announcement is scheduled for next Monday 3rd September which will provide more details of how the event is going to be managed and what financial security is in place for players wishing to buy-in to the event at this early stage.
It is hoped that many of the questions which have been asked on poker forums and in poker clubs throughout the UK receive a definitive answer but, while representatives of Groupe Bernard Tapie continue to contradict the ISPT PR team (you know who we mean Camille), it is unlikely that many sceptics of the event will be pacified.
We wish the International Stadiums Poker Tour the best of luck and look forward to hear what they have to say next week.