The millions of poker players who juggle online playing with a job and real world responsibilities will no doubt be very envious of the poker playing professionals. The select few people that make a living out of playing poker are definitely people that are looked up to and respected. It should be noted that this is a tough old life with plenty of responsibilities but a quick look through Liv Boeree's recent twitter timeline will tell you what fun it is. It is pretty hectic but it is definitely fun and this is what we should all be looking for in life.
The first of the month fell on a Saturday but there was no easy opportunity for Liv to ease herself into the month. In the morning she was off and running in the 10km Race For Life and Liv was delighted to get around the course in 52 minutes. Given that she was expecting to take more than an hour, this was a definite triumph and it should be seen as being well worth the training the effort. Liv managed to raise a great deal of money for charity, which is the main point of these events.
Trouble struck when Liv tried to play
After the race, there wasn't much time to kill as Liv was taking part in a $5 + $5 Race For Life charity poker tournament. The fact that the tournament, which was supporting Cancer Research UK, want starting until 7pm should have bought Liv enough time to get ready for the tournament but as her twitter followers found out, this wasn't to be the case!
Liv was late for her own event as she was stuck in Central London at the time. In this day and age you'd think that logging in on your mobile or tablet device would mean you could play poker anywhere but there was one slight problem with this. Liv had left her computer at home and she was logged in there, which prevented her from logging in on any other device!
Liv eventually got it all sorted and although she entered the tournament late, she still managed to battle her way through to a third place finish! This was not a bad effort at all.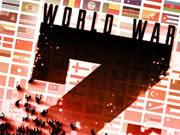 The following day was a bit more relaxing as she got to see the world premiere of World War Z but it wasn't all great news for Liv as she had to put up with a live performance from Muse, which is never a good thing.
With a weekend like this, you'd be forgiven for thinking that Liv was looking forward to a quiet week but before you know it, on Tuesday she was heading off on a plane to Las Vegas for the WSOP! The weather in London took a turn for the better when she was leaving, which is always annoying but anyone flying off to Vegas cannot be envious about what is being left behind.
There was no time to waste though and by Wednesday the 5th of June, Liv was in action with the $1,500 PLH game being her first taste of the 2013 WSOP. This jaunt across the Atlantic meant that Liv was missing out on the sunshine poker break in Marbella for the first leg of the new UKIPT season but you can forgive her missing out on that! Also, with her twitter pictures of her spending a lovely Vegas morning in Red Rock Canyon, you get the feeling that she never really missed out on too much.
There is still plenty of poker to be played at the WSOP and hopefully Liv can keep powering on to success at some point.