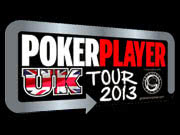 When poker plays a role in films, TV or book storylines, it is inevitable that there will be a focus on the high roller and the massive stakes. This is where the lives of people can be changed in an instant, for better or worse. When it comes to drama, having a person's future depend on the turning of the card is definitely something to be heralded and the high stakes of poker can certainly add a lot to the twists and turns of a great storyline. However, for most poker players, it is not about the high stakes, the low stakes are often what is played for and these can still provide plenty of thrills and spills for the average poker player. Let's be honest though, there is nothing average about poker!
One of the great things recently in poker has been the celebration of the low-stakes poker game because there is definitely something to like and enjoy about this type of game. The Poker Player UK Tour (PPUKT) has been providing low-stakes poker events and the opening leg has recently taken place in Newcastle. The lucky winner in the £110 buy-in event was Anthony Pringle, who managed to overcome 55 other players to take the top prize. Some people may sneer at a big poker event only having 56 players involved with it but that would be the wrong attitude to take. The tour is taking place all around the country, so there will be plenty of local events and there seemed to be a great atmosphere in the Grosvenor Casino in Newcastle.
A tough Saturday to set up final day
The opening day on Saturday was quite tough for many players with 49 making the exit that day, which left 7 players returning on Sunday. The title was always going to be something to aim for but with a top prize of £1,960 up for grabs, there was definitely a lot to play for. Pringle was initially in second place with respect to chips at the start of Sunday but he quickly overtook the leader and then managed to keep on ploughing through the rest of the field until he came out on top!
There was drama in the final hand with Garry Shepherd hunting Pringle down and at times it looked as though the challenger had Pringle on the run but Pringle held his nerve and Shepherd was sent to the rail, although he has the consolation of a £1455 prize. Being interviewed after his triumph, Pringle said it was the biggest live win of his career and that he was delighted, coming hard on the heels of a similar cash prize he received at a New Year's Day poker event which was held on the PKR Poker site. You can bet that Pringle couldn't have felt much more elated if he was playing for higher stakes so it does indicate that there is a place for low-poker stakes amongst the high roller and high intensity poker games.