On Thursday the 27th of June, Sky Poker is providing players with another opportunity to take in Charlotte Jackson, as she makes her fourth appearance on the site. These games have been rather popular so far with many poker players quieting up to get involved with the popular TV presenter. Charlotte has long been one of the favourite girls from the Sky Sports News team and when she was lined up as the ambassador for Sky Poker, plenty of folk started to develop an added interest in poker.
Thursday night sees a special £6,000 game take place and this Guaranteed Six-Max game, dubbed the "Charlotte £6K Max" gets underway at 9.15pm on the site. Of course, you have to play your way to success for this event and there have been satellite events running all week. You may have missed out on a few days but don't worry, there is still a chance to book your seat to face off against Ms Jackson (and try saying that without them mimicking the "oohh" from Outkast's 'Sorry Ms Jackson!')
Poker fun all on week
This is because on Wednesday night there will be another Added Value Charlotte Jackson tournament which carries an £11 buy-in. This event will have a seat for the big Thursday night invitational event but the prize-pool will also be up for grabs, so there is plenty to look out for with this event.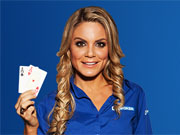 Every player that is involved in the Charlotte £6K Max event is guaranteed a pay-out and there will be a top prize of £2,400 on offer. The money that Charlotte bags for herself will go into the Charlotte Freeroll event that is taking place on Friday the 28th of June and there is also going to be a big Bounty Hunter event on Thursday night too! The Sky Sports Bounty Hunter game will be shown on Sky Sports and Sky Poker TV live, so there is a lot of excitement on this £12,000 game.
The entry fee for the bounty hunter game is £33 and if you come up against Charlotte in the bounty hunter event, you will get entry to the Friday night freeroll game. There will be plenty of people out there who can think of no better way to spend a Thursday and Friday evening than in the company of Chalotte Jackson and if you aren't Chris Coleman, the best way of doing this is to get involved with Sky Poker.