Sam Trickett is one of the big names in the UK poker industry and there is no getting away from the fact that a big reason for his success is down to his achievements in Las Vegas last summer during the 2012 WSOP.
With this year's premier poker event taking place right now, the Matchbook.com site have announced that a documentary charting Sam's role in last year's event is set to be screened, across four parts, in the first week of July.
As you would expect from any film or documentary that has had a Hollywood style feel attached to it, there is a focus on the troubles that Sam had in his life in the build-up to the big event. These troubles, the fact that he had won so much money and blew it all, are hardly the sort of troubles that most people moan about. It is not as if Sam would have had a winning sob story on any UK reality TV show but you can only face the problems that you have in life and it seemed as though Sam was down on his luck.
Poker luck can run against you at times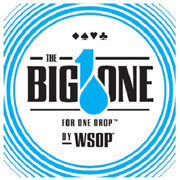 You would think that if you were in a bad shape, you wouldn't be in a rush to chuck $1m into a tournament where if luck was not on your side, you would be out on your backside within minutes. Of course, that would make for a terrible documentary so thankfully Sam went all in and before the end of the tournament, his place in UK poker history was cemented. The fact that he won so much money in tournaments up to this point meant that Trickett was always going to be remembered but his actions at the WSOP's Big One for One Drop in July of 2012 will be talked about for a very long time.
We'll not go into the details of where and when Trickett finished in case you don't know but whether you are familiar with the outcome or not, it is going to be well worth checking out the documentary.
It is also going to be worth keeping an eye out for this year's One Drop High Roller event which gets underway on the 26th of June. There is no guarantee that there will be any big story or event for the UK poker scene for play this year but there is no doubt that poker lovers all around the world will get a kick from such a high profile and high intensity event.