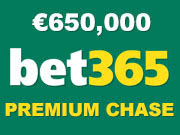 While there are many different poker promotions to choose from, it is hard to argue with the excitement and drama that is provided by a poker promotion that sees you ranked against fellow players. Not only are you looking to defeat your peers when you square off against them, at the table, you need to be racking up more points than them to rise up the rankings.
bet365 Poker knows that this is the sort of promotion that players love and if you want to see a big cash prize at the end of a promotion, how about the fact that there is a total of €650,000 on offer. The main body of the promotion sees 5,000 players battling it out for a share of the €500,000 prize on offer. However, there will also be an additional €150,000 on offer to players, so there is a lot of money to play for.
There is no fixed end date for the promotion, so you want to get involved as soon as you possibly can. The promotion will come to a close when the amount of money awarded hits the €500,000 mark, so getting involved as soon as you can, will help you to be a bigger winner. The site had success with a recent €200,000 Premium Chase promotion, and this is the natural successor to that event.
Poker players love the chance to pit their wits against their peers
It stands to reason that the more players you are ahead of, the better prize you will receive. There are 5,000 prizes in total for the main element of the promotion but you still want to focus on catching and overtaking as many people in front of you. However, you will also want to keep an eye out for the players coming from behind. You don't want to focus so much on the players ahead of you that you allow yourself to be overtaken. When it comes to making the most of your chances tom win in this bet365 Poker promotion, it makes sense to look forward but to keep an eye out for attacks coming from behind.
The position you hold is determined by the number of coins you receive and you earn merit points to pick up coins. You can push yourself up the rankings by playing on cash tables which have stakes up to €2/€4, £2/£4 or €2/€4, so there is variety on offer if you need it. This variety can also be found in the fact that every poker variation and every style of limit is available for the promotion, including Pot Limit Omaha. If you are looking to give your ranking a boost, you will be delighted to learn that the Premium Table cash games provide you with twice the amount of coins, enabling you to really push on in your pursuit of poker glory.
Make sure to check in to the poker lobby to confirm your progress and keep playing to bag a bigger prize.