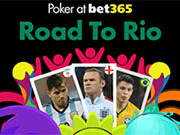 At Max Poker Bonus, we love poker bonuses and so do you. However, this was not our first love and before we found ourselves falling in love with the turning of a poker card, there was another type of card that we loved to collect. Well, cards and stickers because we used to love collecting these cards and stickers for any big football tournament. Whether it was the standard league campaign or the big football event of the summer, being able to collect cards and stickers to fill in your book was a pretty big aspect of growing up. Swapping your cards with friends was a great way to move through your collection quickly and there are adults all over the world who hear the word Panini and are instantly transported back to their youth.
The magic and wonder that comes from collecting cards never really leaves you and this is something that bet365 Poker is keen to take advantage of. The site has a Road To Rio promotion running in June and July, and there will be plenty of prizes on offer. This should ensure you can get involved with the World Cup as much or as little as you like. If you love football and poker, you will adore what is on offer during the Road To Promotion which kicked off on June 5th. However, if you just love poker and prizes you will still have plenty to look out for in the upcoming weeks.
Big poker prizes on offer every day
A top prize of €5,000 is always going to be something worth playing for but there will also be prizes on offer every single day. If you are involved with the promotion and you socialise in the lobby of the bet365 Poker, you will be in the running to win an iPad Mini. There will be one handed out every single day so if you want to grab a prize that will help you to surf the net, play poker and stay in touch with all of the latest news at the World Cup, this is going to be of considerable interest and benefit to you.
The card collecting element comes to the fore with the fact that you need to collect 11 cards to progress on to the next round of the promotion. The cards are of players performing at the 2014 World Cup in Brazil so you will feel like a child again when you get involved with this promotion. If you are keen to maximise your chances of winning, and at Max Poker Bonus we aim to maximise everything we do, you should look to play poker on the premium tables at the bet365 Poker site. This will give you double the chances of picking up cards, which is always going to be something that players should be looking out for.
If you have been looking forward to the World Cup but have been looking forward for a way to reignite your passion and connect with the tournament like you did as a kid, bet365 may have the solution. If collecting cards was a big part of your youth during a World Cup summer, get involved again but this time, you may be very well rewarded for doing so.