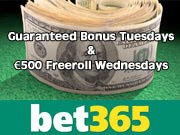 Every Tuesday and Wednesday is a one-two punch of promotional goodness at bet365 Poker, with Guaranteed Bonus Tuesdays and the 500 Euro Freeroll.
The Guaranteed Bonus Tuesdays and 500 Euro Freeroll Wednesdays differ in one key way, that being that the former is offered only for a limited time while the latter is an ongoing promo at Bet 365 Poker.
Every Tuesday between September 7 and October 5 at bet365 Poker will be Guaranteed Bonus Tuesdays, which means that players will be entitled to receive a bonus of as much as $1,000 per player with no deposit required. What's more, each player can earn this maximum $1,000 bonus each and every Tuesday of the promotional period. Since there are 5 Tuesdays between Sept 7 and Oct 5, that means each bet365 Poker player can earn up to a $5,000 bonus for free.
To earn some part or all of your Guaranteed Bonus Tuesdays bonus, just play your heart out at bet365 Poker every Tuesday of the promotion. Each Tuesday you earn a bonus equivalent to your results for the day, regardless of it's a positive or negative number, in other words, if you come out for the day with a $900 loss, bet365 Poker will amazingly pay you a $900 bonus. And your opponent who came out $900 ahead gets the same bonus too. As bet365 Poker says, this is far better than even a reload bonus because there isn't any deposit or money transfer required in order to win.
The following day, Wednesday, is bet365 Poker's €500 Freeroll. As already mentioned, this is an ongoing promotion at bet365 Poker. To play for a part of the weekly €500 guaranteed prize pool, you just need to earn 10 Merit Points at bet365 Poker's real money tables during the week prior to the Wednesday €500 Freeroll event, which takes place at 19:00 GMT. Games played at both Euro (€) and Pound (£) tables apply.