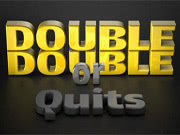 In bwin Poker's newest style of poker to be introduced into their online poker repertoire, half the players will win and half will lose.
The only question is, in which half will you be? Double or Quits is the name of the new game and as bwin Poker describes it, it's basically a twist on the Double or Nothing style of tournament that has lately become so popular in live poker.
bwin Poker's Double or Quits Tournaments are a Sit & Go style of tournament which means that they run around the clock, a new one beginning each time the requisite number of players (in this case, 10) is met.
The first difference between bwin Poker's Double or Quits and your standard sit and go tournament is that in Double or Quits, the top 5 players are paid out. That's half the playing field of each tournament walking away from the table in the money. It's not even split according to placement in the top 5, but rather split equally amongst all 5 players, hence the "Double" in the name, because the top five double up and the bottom five bottom out.
From there, bwin Poker puts another spin on the structure and gives every player, that's all 10 players, whether they made the top 5 or bottom 5, are permitted a rebuy within the first half hour (30 minutes) of the game. This gives players knocked out before making the top 5 another chance at doing so, and it rewards the other players by enriching the total prize pool to be split amongst half of them, hence the "Quits" in the name, as players have to choose early on whether to contribute double their investment into the pot for a 50/50 shot at winning it back or quit now.
The starting stack for Double or Quits Sit & Gos is 1,500, with blinds going up every 6 minutes. The original buy-in (and rebuy) is $6 (or $5 + $1), giving the top 5 finishers from each Double or Quits tournament a minimum of $12 back, but probably a whole lot more because, after all, who can resist a rebuy?