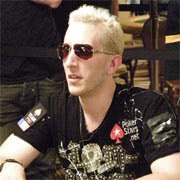 There have been plenty of UK poker players making it big with SCOOP and the list seems to be growing bigger all the time. This is great news because the more UK and Irish poker success, the better. Anything which encourages people to play or gives people an incentive to get involved with poker has to be seen as a good thing. It can be all too easy for people to think that they'll never win an online poker event but someone has to win them and if you don't get involved, you will never get the chance to see if you can win!
Event number 36 at SCOOP was the No Limit Hold 'Em 1R1A event and there were UK players grabbing cash here. The low buy-in events at SCOOP have been very popular but there has still been UK player rising to the upper reaches of the tournaments. One player who has experienced a great run of form of late is "BubsenMan" as he has grabbed 14 cash wins of late. The latest of which was a 12th placed finish in this event and this saw him grab $2,360.91. However, one UK player managed to do better with "GodsTeacher" finishing in a very credible seventh place. This placing saw him pick up $9,229.02.
The medium level event also saw some British player and poker players who call the UK their home rank very highly. Rhys Jones finished in 19th and the player known as "reecelfc69" came 25th. However, the main player with a UK link was Bertrand Grospellier, who finished 10th, not a bad position for the Team PokerStars professional player to be in.
Some big UK success stories to be proud of
The High Event also saw UK success as "vindog03" finished 14th grabbing some much needed cash while Rory Matthews managed to grab his 14th cash place in the tournament. He finished seventh overall, which was enough to see him earn $40,640.
There was a big prize in event number 40 which was the No Limit Heads-Up High Roller event when Ben Warrington, who has the online name of "KidCardiff6" managed to win in the Medium event. This success ensured that he was bagging over $90,000 which was definitely a great prize!
There was a cash prize at the SCOOP Main Event for Victoria Coren too. She was keeping her twitter followers up to date with her progress and she was very relieved to make it through to the cash stages. She played in 3 SCOOP events and this Main Event was her first cash finish, so it was definitely worth tweeting about! She was knocked out quickly after the bubble but picking up over $1,600 is enough to justify taking part in this event.
There has been a great deal of success at the SCOOP event and even if you don't get involved with the poker tournaments now, you have to be thinking about getting involved at some point!