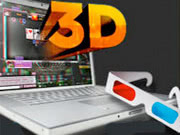 888 Poker's slogan is "We play different" and they're not kidding. Case in point: the new 3D poker room that 888 Poker has just released.
888 Poker's new 3D poker room is nothing if not stunning. It gives players an incredibly choice in the look and feel of their game, with graphical choices in the deck that you use (with different front and back designs on the cards), and table layouts and themes, including the option of placing 3D featured images behind your table. You also get to choose from a broad selection of 3D player avatars. Additional game settings (such as auto muck hand, and post blinds) and color indicators (such as to indicate whether each player Folded, Called, or Raised) make game play not only more visually appealing but smooth, intuitive, and much easier to follow the action.
The 888 Poker lobby has also been improved with its 3D renovations, with a bevy of customisable options for players comfortable using the 888 Poker lobby, and a quick-click beginner's lobby offered as an alternative to players who aren't quite accustomed to the full breadth of options offered in the regular 888 lobby.
In honour of their new 3D poker room, 888 Poker is holding a special promotion called 3Directions to Win, in which players can win prizes like iPads and cash up to $15,000. The 888 Poker 3Directions to Win promotion includes crazy give away tournaments offered at buy-ins of just 8 cents, as well as prizes awarded to players who participate in at least 10 Sit & Go tournaments in the new 3D 888 Poker room at stakes over $1.
Already 888 Poker boasts an overall 5 million player pool. With news of this innovative 3D poker experience the site is now offering, players can only expect this action to continue to build.