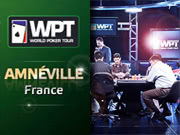 partypoker, lead sponsor of the World Poker Tour, is now holding satellite tournaments into November's WPT Amneville, France main event.
In all, partypoker will be giving away five prize packages into this, the premiere WPT event to be held in France, each package worth $7,000 and including the $4,500 buy-in into the WPT Amneville main event, hotel accommodations during your stay for the tournament, and $1,200 for expense money. In addition, the WPT Amneville prize package winners will also be treated to partypoker's world renowned world class hospitality.
partypoker WPT Amneville satellites and qualifiers start Monday, September 13 and run through Sunday, October 17, 2010. The cheapest way to enter the qualifying structure is through one of partypoker's daily WPT Amneville freeroll tournaments in which the top 50 players from each will advance to a sub qualifier speed rebuy event.
Players can also opt to buy in directly into this sub qualifier speed rebuy event for a $1 buy-in. These events take place daily and award an entry into the weekly WPT Amneville satellite qualifier for every $40 in the prize pool. Alternatively, players can win a seat in the weekly satellite qualifier through one of partypoker's daily $5 + $1 sub qualifier speed events; one in eight players will win.
The partypoker WPT Amneville Satellite Qualifier takes place every Sunday at 1:45 pm ET. Players can either win their seat through one of the aforementioned methods, or they can buy in directly for $37.50 + $2.50. One out of every ten players in each of these weekly satellite qualifiers will land themselves a seat in the WPT Amneville Satellite on Sundays at 3:20 pm ET. The direct buy-in into this event, in which partypoker will award one in every twenty players a $7,000 prize package, is $350 + $25.