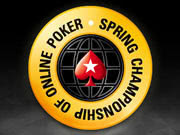 You certainly won't find too many UK poker players complaining about the recent PokerStars SCOOP extravaganza. There has been a two week fiesta of poker with players playing from the comfort of their own home or wherever they decide to play poker. Not every poker player from the UK has been a winner, that would be impossible but the fact that so many British poker players have triumphed has to be seen as huge achievement. Any player looking for encouragement to get involved more with online tournaments will hopefully have picked up a lot from what SCOOP has provided this month.
It has to be said that the statistics are highly impressive. In total, there were 48,746 entrants from the United Kingdom at the SCOOP events. This saw the UK being ranked as the fourth highest represented nation or entity in the entire tournament. When you take in population sizes, this is a great return and it goes a long way to indicating the level of love that we have for poker on these shores.
There were a lot of wins for UK poker players
There was great joy for the UK players in the amount of events won. There were a total of 19 triumphs for the UK players and this was the highest number of wins for any nation! This may mean that it wasn't always the biggest events that were won by the Brits but for some players, winning any online tournament would be the biggest thrill of their poker playing career so the more event triumphs the better to be honest!
With respect to cash places, the UK managed a total of 6,482 cash finishes. This put them in fourth place with respect to cashing out and when you think that we had the fourth level of entrants too, this shows a level of consistency.
If you are the sort of player that likes to focus on making the final table, you will be delighted to know that in total, there were 107 UK players who managed to make their way to the final table of events. This placed the UK third with respect to the national rankings for final table places.
Of course, for some people, it is all about the money and anyone looking to find what UK poker earned at SCOOP are in for a treat. In total, $8,754,363.06 was picked up by UK players, which is a huge sum of money and there is a lot to be proud of in the poker success found at the SCOOP event.