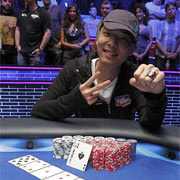 There will be no big money for Rochdale poker player Jake Cody after he bust out from the fourth day at the WPT World Championship. Jake got off to a great start on the first couple of days of the $25,500 buy-in Main Event but a tricky third day saw him slide down the poker chip rankings and put himself in jeopardy.
Jake doesn't have a great record of cashing in at WPT Events with his only previous monetary success at this style of event coming way back in August 2010. This was a triumph at the WPT London event so perhaps Jake isn't too fond of WPT events. Then again, give that he did actually manage to win that London event means he can't have too much hate or distrust for what WPT offers to poker players! Cody slipped out due to the poker play of Chino Reem who ended Day 4 as the chips leader for the Main Event.
Jake Cody looking on the bright side of life
At least Jake was able to look at the outcome in a philosophical manner, taking to Twitter to talk to his followers. Jake said;
Oh well life is good, Mexico in a few days for the end of SCOOP on PokerStars then straight back to Vegas #bracelethunting
The fact that there are so many different poker tournaments to choose from means that poker players will always have an opportunity to bounce back as quickly as possible. Any poker player that suffers a disappointment knows that they need to get back in the game as quickly as possible and this is the attitude shown by the top poker players.
If you are a casual poker player or you are just starting out, this is the attitude that you need to show with respect to poker. You should always bear in mind your financial commitments and it doesn't make sense to go charging into every game and tournament available in an attempt to keep playing but you can't let defeats get to you too much. Being able to bounce back quickly and become a stronger player after you lose is what helps poker players to grow and it is definitely something that all of the top poker players can rely on. You should look to take their advice in this manner too.