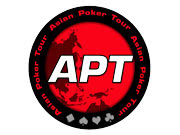 It's been all go at the Resorts World Manila's Genting Club over the past few days with the Manila Millions and Asian Poker Tour (APT) Philippines main event running – although you might have missed the very notable milestone of Philip Padron becoming the first player to defend a title on the tour.
The Filipino took down the $500+$50 buy-in APT Philippines Asian Heads Up Championship for $11,620 in a 60-player field – just four short of capacity when 13 players failed to appear – after having secured last year's title for $9,930 to create a little piece of tour history.
Not that the home favourite had an easy time of it as he outlasted players such as Team Bodog Pro Jennette 'Jay' Tan, McLean Karr, Winfred Yu, Nam Le, Jojo Allado, Czardy Rivera, Kai Paulsen, Daniel Chua, Justin Chan, Sparrow Cheung, SJ Kim, Julian Hasse and Manila Millions winner Allan Le – who pocketed $1,685,000 for that incredible success – to claim the winner's cheque from a $29,100 prize pool that saw eight players paid.
Champion Survives Scare to Make Final
Padron saw off New Zealand's Daniel Francis, Hong Kong's Ken Wong – this year's Aussie Millions main event runner-up – Japan's Sekiya Yosuke, fellow Philippines player Lester Edoc and Australian Michael Marvanek, who is a Macau cash game regular, on the way to his best-of-three title clash with Frenchman Ira Blumenthal.
However, Padron had to survive a huge scare against Edoc to even make the semi-finals after finding himself in need of a club on the river to complete a flush when out-flopped by his opponent.
All-in pre-flop, Padron revealed 9c-6c to be ahead of Edoc's 5s-4c. But that all changed on the 2c-5c-Ah flop as Edoc caught middle pair and an inside straight draw. With his tournament life at stake, Padron had to find a club from the last two cards to double-up.
The Qs turn was no help, but the 3c – while completing Edoc's straight – gave Padron the flush to stay in contention to defend his title. He completed his comeback later when Edoc shoved all-in for his last 9,000 while holding Ad-8d, but was left disappointed when Padron's Ac-Kd held up for the knockout.
Ira Blumenthal Conquers Tough Route to Last Two
Certainly, Blumenthal has form in the Philippines so it should be no great surprise that he did well again, having previously accumulated $124,547 from three in-the-money finishes, with his runner-up spot in the $2,500 buy-in No-Limit Hold'em main event of the 2007 Asia Pacific Poker Tour (APPT) Philippines – also in Manila – earning him $113,858.
Blumenthal also faced a tough route to the final after defeating Hong Kong's Edwin Hui, Thailand-based Englishman Ben Abrahams, and Philippines duo Don Carmona and Michael De Leon – before seeing off latest Bodog recruit Tan in the semi-finals.
In what was her debut as a Team Bodog Pro, the 23-year-old from Hong Kong fell just short of the final to take third spot – and $2,910 – when her all-in move with Ah-Jd ran into the Js-Jh of Blumenthal.
Unfortunately, for Tan, the Qc-8s-10h-2c-6s board was no help, although it was still a fantastic performance from the three-strong Team Bodog member and bodes well for the future.
Marathon Final Sees Filipino Crowned Champion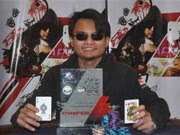 In what became a momentous final clash that ran comfortably into the early hours, Padron began well to correctly call Blumenthal's 3,500 bluff on the river with only king-high. But the Filipino star went on to make several mistakes to find himself with a short stack – and was ultimately forced into calling an all-in shove on the river from his French opponent on a 6c-Ad-Jc-As-2h board, only to see Blumenthal reveal Ac-Js for the full house.
That made it 1-0 to Blumenthal, but Padron was not ready to give up after that disappointing loss and bounced back by taking the second match-up as their clash moved past midnight.
Finally, at about 3am, Padron was crowned champion when, on the button, he raised to 2,000, only for Blumenthal to make it 6,000 to go. However, the home favourite responded with an all-in, which the French player called for a showdown.
Padron revealed As-Jh for a classic race against the 10d-10s of Blumenthal. The Filipino took the lead with top pair on the 5d-Jc-7s flop – and stayed there when the 7h turn and Qc river were no help to runner-up Blumenthal. The Frenchman did, however, leave with $5,820 for his second place finish.
Payouts from the APT Philippines Asian Heads Up Championship
Philip Padron (Philippines) – $11,620
Ira Blumenthal (France) – $5,820
Jennette 'Jay' Tan (Hong Kong) – $2,910
Michael Marvanek (Australia) – $2,910
Lester Edoc (Philippines) – $1,460
Marc Rivera (Philippines) – $1,460
SJ Kim (South Korea) – $1,460
Michael De Leon (Philippines) – $1,460