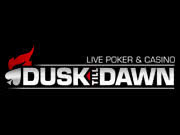 While the start of the summer for the Dusk Till Dawn club was very much about promoting and getting fully behind the ISPT Wembley event, it has been very much business as usual when it comes to the club and online events. The thing is though, you wouldn't have known this from a casual look at their site because so much of the time and energy of the site has been devoted towards making the ISPT as big as hit as they possibly can. Now that the major event is finished, there is a need for the company and club to get back to doing what they do best, which is promoting great poker events every week!
Last year, Dusk Till Dawn had a great deal of success with their Deepstack events which had a guaranteed £50,000 prize on offer for the £150+£18 buy-in. This year, perhaps mindful of the money that many players have already spent on DTD and the ISP, the buy-in has actually been reduced. This means that the buy-in for this summer's Deepstack events are levelled at £100+£15 but the guaranteed prize on offer is still at £50,000. This is a tremendous gesture by the club and it should be one that many poker players enjoy and take advantage of.
Keep busy this summer by playing poker
The next big event to look out for is next week but the online satellite events will be taking place from Sunday the 16th of June while Day 1A begins with an online tournament on Monday the 17th of June. There is another online day on Tuesday the 18th of June, and Day 1B starts at 8.30pm, the same time as the Day 1A start-time. There is a bit of respite with Day 1C not coming until Friday the 21st of June and the start time for this event is 7pm and the Day 1D event, scheduled for Saturday the 22nd of June will have a 5pm start-time. This is a long build up to get to Day 2, which takes place on Sunday the 23rd of June with a start time of 2pm.
The introduction of the online Day 1's will be a positive thing and given that the DTD club is shut on Monday and Tuesday, this makes perfect sense. There is a blending of online and offline capabilities from many clubs these days and there is no doubt that Dusk Till Dawn is at the forefront of this in the UK poker community.