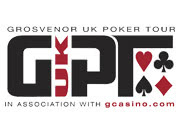 While there was no sign of panic at the end of Day 1A at the Reading leg of the GUKPT event, there would have been or two nervous organisers. There was a very low turnout for the event, with just 52 players deciding to pay their way into the event. Thursday's can be a bit slow for poker events like this and hopes were high that there would be a much bigger turnout on the Friday. This definitely turned out to be the case as Friday had more than double the number of paying poker players than Thursday had!
Yes, there were a total of 113 poker players paying their way to play on Friday and at £550 a pop, this meant there was a lot of smiles from the organisers. In fact, with 113 poker players snapping up the chance to play on Friday, the Reading event actually managed to become the busiest with respect to GUKPT events. It just goes to show that a lot can change overnight!
A much healthier turnout for Day 1B
Of the 113 players on Friday, a total of 44 managed to make their way into the Day 2 event which was taking place on Saturday. With 25 players gaining entry to Day 2 from their efforts on Thursday, Saturday had 79 players lined up to come along and take part in the fun and excitement at the G Casino in Reading.
The overall chip leader for the play on Saturday was decided on Friday with John Burberry ending up with a total of 133,850 chips. John is no stranger to live poker events and managed to claim a fourth place finish at a WCOOP (World Championship of Online Poker) event so he has plenty of skill at the top end of a major poker event. Having a substantial chip amount at the end of the Day 1 poker action is no guarantee of getting to the end of Day 2 in a similar position but at least Burberry has provided himself with the chance to grab success in this event.
Some other poker players who will be happy with their work building to Day 2 include Ashley Smith, who earned 98,125 chips, Andy Probyn, who grabbed 108,000 chips and David Lloyd, who was holding 128,850 chips at the end of Day 1B. The plan for Saturday's play was to continue until the final table was in place and then the action would roll over to Sunday.