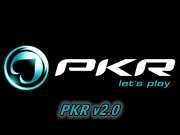 Happy 4th Anniversary PKR Poker! Or would that be Happy 4th Birthday?
Either way it's a cause to celebrate, and celebrate PKR Poker is doing indeed, with, among other player bonuses in honour of the occasion, $10,000 in Premium Freeroll tournaments and a huge poker software overhaul.
Version 2.0 of the PKR Poker software includes enhancements and additional implementations of the site's unique 3-dimensional interface, now offering body language with player avatars that includes facial expressions, chip tricks, and oddly enough, poker tells.
PKR has now also upped its ante (figuratively speaking) on multi-tabling by offering players the chances (or chances rather) to compete in up to nine games, sitting in at nine different poker tables at the same time. Players don't even have to switch between screens to view the action on all nine tables, though they can switch between tables interchangeably at will. And six of those tables will be shown in 3D.
PKR players can now also add extra accoutrements to their poker display with the addition of national flags, adjustable button sizes and chat window size, and more new customization features.
For its 4th birthday/anniversary special, PKR Poker is also hosting new Premium Freerolls. Ten-thousand dollars worth, to be exact. Since its start, launching on August 17, 2006, the UK based, Alderney licensed site has given away nearly $3 million in freeroll cash winnings.
In 2009 PKR Poker won the eGaming Review Award for Poker Operator of the Year and the International Gaming Award for Online Poker Operator of the Year. Every year since its inception, PKR Poker has increased its overall player pool by an average of 1 million players per year, already at nearly 3 and 3/4 million players now, and well on its way to breaking the 4 million mark. At any given time at PKR Poker, approximately 15,850 players will be found there.