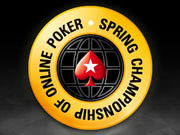 As far as successful poker tournaments for UK poker players go, the SCOOP event organised by PokerStars has to be one of the biggest and best. The fact that players are able to take part in these events from the comfort of their own home is always going to be a good thing and it has certainly encouraged a great number of UK players to get involved. While the high number of UK success stories indicates that this is a great tournament for the Brits, it would be interesting to know how many UK poker players are taking part.
For every success there are going to be plenty of failures and disappointments but there is no real sense in focusing on that is there? The real point of any event is to look towards the winners and this is something that will see poker players remember this tournament very fondly.
If you love poker events with a long name, the 27th event at SCOOP would be one that would appeal to you. The Fixed Limit Triple Draw Deuce to Seven game probably had some players eliminated from the action before they could finish the title! However, it appears to be a poker discipline that is growing in popularity and stature and its presence can only increase after the latest event.
Low buy-in price generates a lot of interest
As you would expect from an event that had a buy-in of $27, there was a lot of interest in the low level event. There were a total of 1,668 players taking part in this game and there were a few UK players in the upper reaches. When you think about how many players were involved, reaching 28th ("GrowsOnTrees"), 19th (Jamie "buffslayer1" Wilby) and 4th ("crack2") represent big achievements.
The jump in price to $215 for the middle level game saw the number of players fall to 376 but this was still enough to represent a prize pool of $75,200. Large swathes of this money made it to the UK with "AceOddity" finishing in 18th, "$IERRA_TANGO" finishing in 9th and Stephen Chidwick, who plays online under the name of "stevie444" finished 7th.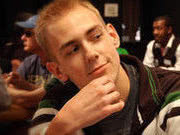 This was a great performance by Chidwick but he was to do even better in the High buy-in event. The $2,100 buy-in was no deterrent although UK player "Wrathchild57" will be gutted at busting out when they were just two places from the money. Another unlucky defeat fell to "Jackal69" who finished in 7th place but just fell outside of the final table!
However, there were two players from the UK in the final table, Rory Matthews and the aforementioned Stephen Chidwick. Sadly Rory was the first to leave the table but "stevie444" managed to fight his way to the front and grabbed the $52,320 which goes to the winner! Yes, Stephen Chidwick grabbed his first SCOOP title and going by his Facebook update, he seemed delighted by this outcome!
Stephen said;
After 6 years of being titleless I finally got the monkey off my back…2k triple draw champion for 50k and a watch!
While UK players showed the had the skill to make good poker hands, the success at the Razz event at SCOOP indicated that they have some talent in making rubbish poker hands too! The player called "TomaszRa" online came third and managed to earn himself $5,112.29! If you can recall the amount of rubbish hands you have played over the years and earned nothing, this sort of prize will definitely annoy you a little bit!
Hopefully the level of success that UK poker players have received at the SCOOP event will give other players confidence and motivation to get involved. There is no chance of winning if you don't get involved and we can guarantee that you will fail to win every single poker hand that you fail to play.